The Stage Restaurant and Bar is your local paradise for things to do in Southwest Florida, offering a variety of entertainment from live music tribute bands, fine dining, dancing, and all around fun.
Located right next to Fitzgerald's Irish Pub, you can purchase event tickets for date nights, a night out on the town, a group event with friends,
or just to enjoy a wonderful show with 5 star dining.
Our entrees range from lobster, surf and turf, prime rib, pork chops and more. We offer a full service bar with liquor and beer. Come on out to The Stage in Bonita Springs to experience the time of your life for either a matinee or evening event.
Check out our performance schedule to see what events and foods we have for you.
Hope to see you there!
Sign up Now for Email Updates, Coupons, Special Savings
and Advance Entertainment News
For


Email Newsletters
you can trust
THE RESERVATION OFFICE IS OPEN
FROM 10AM TO 10PM
TUESDAY THROUGH SATURDAY!
CALL (239) 405-8566



*Email request does not guarantee a reservation until conformations
are received from the stage reservationist.
Seating includes dinner, cover and guaranteed seating
Please indicate general or preferred seating.
Please indicate arrival time for dinner seating.....545pm, 6pm, 615pm etc...
show starts approx 7:30pm
no reservations accepted for cover tickets....first come-first serve

---
*CLICK HERE!


*CLICK HERE!*

---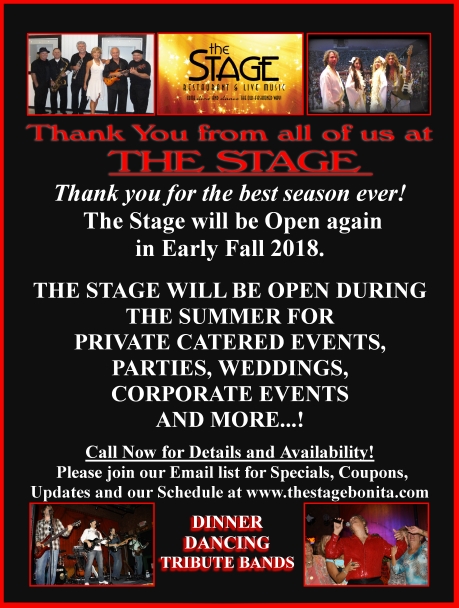 <

*FOLLOW US ON OUR NEW TWITTER ACCOUNT*
GET CURRENT UPDATES & DISCOUNTS!


*Email request does not guarantee a reservation until conformations
are received from the stage reservationist.
Seating includes dinner, cover and guaranteed seating
Please indicate general or preferred seating.
Please indicate arrival time for dinner seating.....545pm, 6pm, 615pm etc...
show starts approx 7:30pm
no reservations accepted for cover tickets....first come-first serve
Sign up Now for Email Updates, Coupons, Special Savings
and Advance Entertainment News

For


Email Newsletters

you can trust

The Stage | 9144 Bonita Beach Road SE Bonita Springs Florida 34135
(239) 405-8566
Dining & Dancing
Located in the ACE Sunshine Plaza
The Stage is Available to Host or Cater your Next Party, Wedding or Event!
Call for more info.

Website Design & Creation & Photography by Dale Werner ~ 2010webhelp@gmail.com